News
Rosa Guy - Guardian obituary by Margaret Busby
(June 17, 2012)
---
Obituary by Margaret Busby for The Guardian (unedited)
Rosa Guy
Author, playwright and civil rights activist who confronted the tough realities of race, sex, class and poverty in her work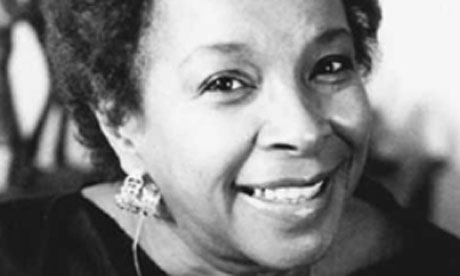 Activism and writing were the twin poles that drew Rosa Guy, who has died aged 89; she is best remembered as an author - particularly of young adult fiction - who never shirked confrontation with tough social realities. At the time of her death from cancer on 3 June in Manhattan, she had published over 20 books, won numerous awards, and was internationally acclaimed. These were not achievements presaged by her start in life.
Born to Audrey and Henry Cuthbert in the town of Diego Martin, in the Caribbean island of Trinidad, Rosa was seven years old and her sister Ameze 10 when their parents left them the care of relatives and emigrated to the United States. In 1932, the children joined them in Harlem, New York. When her mother became ill Rosa was sent to live in Brooklyn with a cousin who was a devout Garveyite; the politics of black nationalism profoundly affected Guy for the rest of her life, and she came to define herself as an Africanist fighting against colonialism and the exploitation of the masses. On their mother's death in 1934 the sisters returned to Harlem to their father, who remarried, but he too died in 1937. Orphaned at fourteen, Rosa and her sister lived in a series of foster homes. Leaving school, she found factory employment in Manhattan's garment district, becoming an active organizer in the International Ladies Garment Workers Union.
At 19 she married Warner Guy, and in 1942 bore him a son, Warner Charles (who died in 1995). While her husband served in the army during the war, she began to express herself creatively after being introduced by a co-worker to the American Negro Theatre, where Guy studied acting (among fellow members were Sidney Poitier, Harry Belafonte and Ruby Dee). Her marriage ended in divorce in 1946 and shortly afterwards she joined the Committee for the Negro in the Arts. There she met John Oliver Killens and in 1950 she and Killens co-founded the (still extant) Harlem Writers Guild, dedicated to developing the publication of work by writers of the African diaspora. Early members included John Henrik Clarke, Paule Marshall, Maya Angelou and Audre Lorde.
Guy was a regular at the United Nations in 1960 and was often given passes to attend Security Council debates. When in 1961 Congolese prime minister Patrice Lumumba was assassinated, there was widespread rage against UN Secretary-general Dag Hammarskjöld, whose his actions it was felt were connected. Maya Angelou in her 1981 memoir The Heart of a Woman recalls how she and Guy (as part of a group styling themselves the Cultural Association for Women of African Heritage), together with Abbey Lincoln, Carlos Moore and others, stormed the Security Council at the UN, interrupting a speech by Adlai Stevenson. Guards were called and a mêlée ensued, sparking day-long protests from one end of Manhattan to the other. "That rage became a part of us," Guy said, "a rage that went on to become part of the Black Revolution of the sixties and the seventies and the Black Power Movement."
In 1965 two of her stories, "Magnify" and "Carnival", were published in the Trinidad newspaper The Nation, at the time edited by C.L.R. James. Her 1966 first novel, Bird at My Window, reprised the desperate conditions of life in 1950s Harlem that Guy herself had overcome; the book was dedicated to the memory of Malcolm X, "the pure gold salvaged from the gutter of the ghetto in which we live". Her next three novels, The Friends (1973), Ruby (1976) and Edith Jackson (1978) form a trilogy dealing with the forces of race, sex and class that govern the lives of black adolescent girls. Another trilogy focuses on black boys coming of age amid an unforgiving atmosphere of violence and crime. Her books raise provocative questions about human potential, responsibility and the insidious problems of poverty. She believed young people deserved honesty, and that they could handle it.
Her 1985 novel My Love, My Love, or The Peasant Girl was adapted into the hit Broadway play, Once On This Island, nominated for eight Tony awards. Other successful books include A Measure of Time (1983), an adult novel with a central character based on her streetwise stepmother who worked as a "booster" – an upmarket shoplifter – to make her way in 1920s' Harlem.
Everything Rosa Guy did was cemented by friendships, notably with a strong core of women writers and artists that included Angelou, Louise Meriwether and Joan Sandler. I, too, was privileged to count her a friend, both before and after being her publisher. Lennie Goodings, who also published her at Virago, adds: "Given the harshness of her beginnings, it was quite something to find Rosa to be a gentle, unembittered soul. She had a way about her that was easy-going, languorous, sexy even. I remember meeting her when she was in her late 60s and she was wearing - fabulously - slinky black leather trousers. She appeared to have not a care, but that belied a deep and passionate drive to tell the truth - especially for young people."
As Meriwether puts it: "Rosa believed that the responsibility of writers is to try and make the world a better place for us all." She is survived by five grandchildren - Didier, Warner, Charles, Alice and Ameze - eight great-grandchildren and a grand-nephew.
Margaret Busby
Rosa Guy, writer, born 1 September 1922; died 3 June 2012